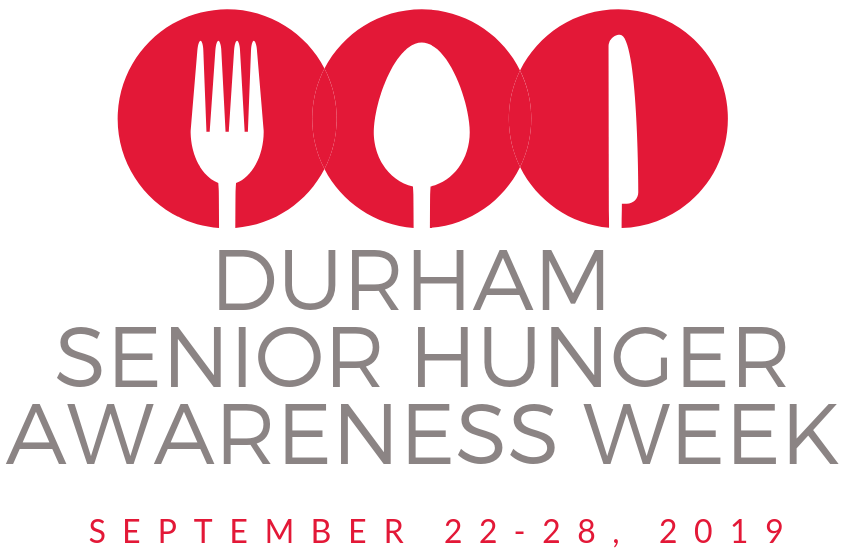 The first Durham Senior Hunger Awareness Week takes place September 22-28, 2019. Senior hunger and food insecurity are hidden issues, partly because many seniors are reluctant to ask for help. The Durham Partnership for Seniors, through its Senior Hunger & Nutrition Committee, seeks to bring public attention to this critical issue. Learn here how you can help ease senior hunger and food insecurity.
Learn
Of the 60,000 Durham County residents age 60 and older, about 12,600 are at risk of food insecurity based on income level. North Carolina's senior hunger rate is among the nation's worst with 1 in every 5 NC seniors over age 65 at risk, compared to the national average of 1 in 6.
To learn more about the causes and consequences of senior hunger and food insecurity, visit:
Donate Time or Money
These local organizations work to address senior hunger and food insecurity. Support them by volunteering or with financial donations.
Meals on Wheels Durham provides home-delivered meals to homebound seniors. Visit mowdurham.org.
Durham Center for Senior Life EATS provides a food pantry, food delivery, or rides to the grocery store or farmer's market. Call Alicia Allen-Gant at (919) 688-8247 (ext. 103) for information.
End Hunger Durham educates, advocates and organizes to end to hunger in Durham with a focus on older adults. Learn more at endhungerdurham.org.
Advocate
Speak out on behalf of adequately funded programs for seniors. Contact your state and federal representatives. Ask "What are you doing to address senior hunger?" Ask Congress to support the Closing the Meal Gap bill, which you can learn about at www.endhungerdurham.org/action-groups/policy.
If you would like a speaker to come to your house of worship or community organization, contact Jeanne Yocum, information campaign coordinator at jeanne_yocum@yahoo.com.
Information Sheet
Download our information sheet and share it with family and friends so more people know how to help address senior hunger and food insecurity in Durham.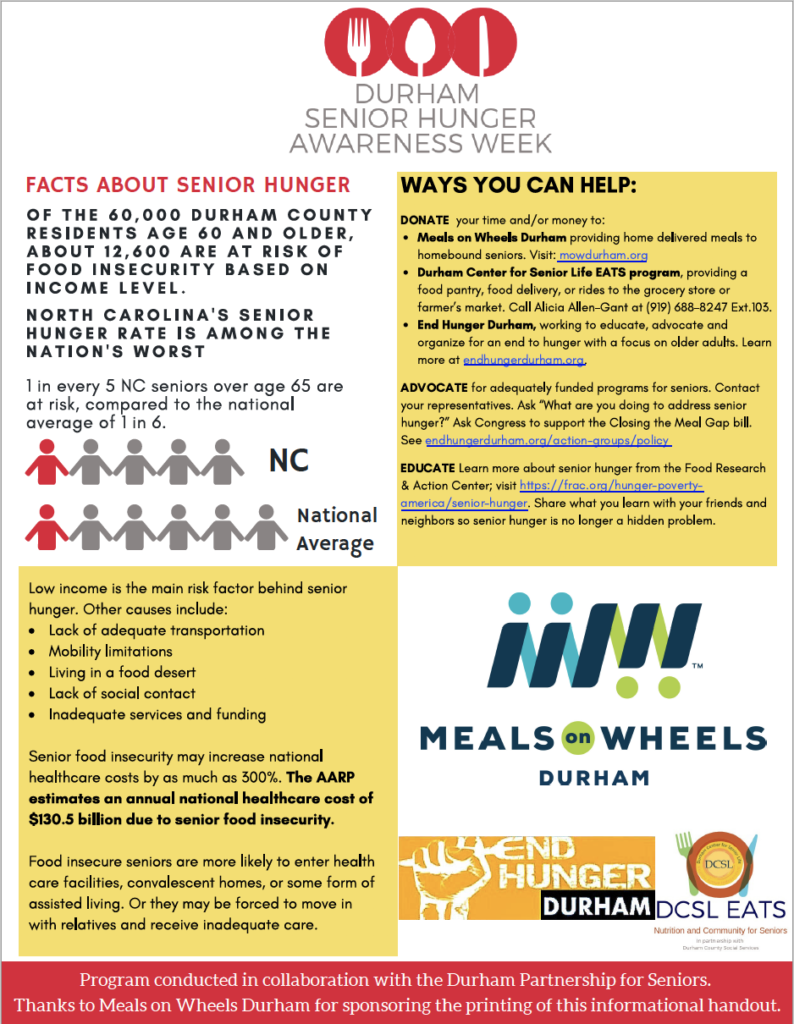 Media Relations
Download our press materials here. Media inquiries should be directed to Jeanne Yocum, information campaign coordinator, at jeanne_yocum@yahoo.com.
Other Resources