VOLUNTEER With End Hunger Durham
End Hunger Durham is an education and advocacy organization grounded in alliances with front-line workers and those affected by hunger.
To register your interest in volunteering with EHD, complete and submit this brief form.

For those who would like to volunteers to distribute food, contact the Triangle Leadership and Volunteer Center, which handles the requests for volunteers from the food pantries. 
End Hunger Durham is looking for dedicated activists who want to work with older adults in the community striving to improve their lives.
EHD and Meals on Wheels have designated Sept. 22-28 Senior Hunger Awareness Week. See our fact sheet on hunger among older adults.
For further details email info@endhungerdurham.org
Join Our Steering Committee
If you are passionate about food as a human right and like the idea of a community-based organization, which works with those living the experience of hunger and those who make decisions affecting their lives, you may thrive on the End Hunger Durham Steering Committee. The SC guides priorities, plans events, helps fundraise, and does much of the program work. Meetings are the third Tuesday of the month at 6:30 pm at 721 Foster St. or during the COVID era, on Zoom.

Please contact Spencer Bradford at ‭(919) 824-8848‬ if you can help with any of these areas.
Most people experiencing hunger require help on many fronts before they can stabilize their lives. 17% of Durham's population lives with food insecurity.
This illustrates the problem: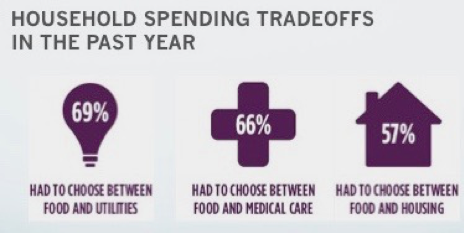 End Hunger Durham provides connections to navigators and assistance for enrollment in programs that can assist them with financial emergencies, housing, healthcare, food, and employment, and more.
We invite you to become a "community resource worker" who learns the array of resources available and how to help people take the next step in their journey to freedom from hunger. We have periodic trainings and engagements.
End Hunger Durham is  looking for volunteers…
with IT skills
who can:
edit our WordPress website
post newsletters on a Mail Chimp platform
manage occasional IT tasks such as Survey Monkey, Evite, etc.
with computer design skills
who can:
create attractive and colorful flyers, brochures, and more
and/or with fundraising experience.
who can
Help with grants, fundraisers, and donor engagement.