Portraits of some of the people who engage in grassroots efforts to alleviate food insecurity.
This portrait series came about when the Durham local photographer Rhonda Klevansky wanted to draw attention to the serious food insecurity facing one in five Durham families, and chose to do so by shining a light on those quietly working to get food to those who need it. Here are some of those people.
Banners have been put up around Durham to raise awareness, and as part of the Durham County food security task force fundraising initiative. 
Julian Xie, one of the founders of the Duke Root Causes Fresh Produce Program, delivering food. The program serves 300 patients referred mainly from Duke primary care clinics and Lincoln Community Health Center, and every week, a squadron of volunteers, Duke graduate, professional, and undergraduate students, take food on a rotating schedule to the homes of 150 families.  Their long-term goal is that healthcare will encompass food distribution and equitable access to good nutrition.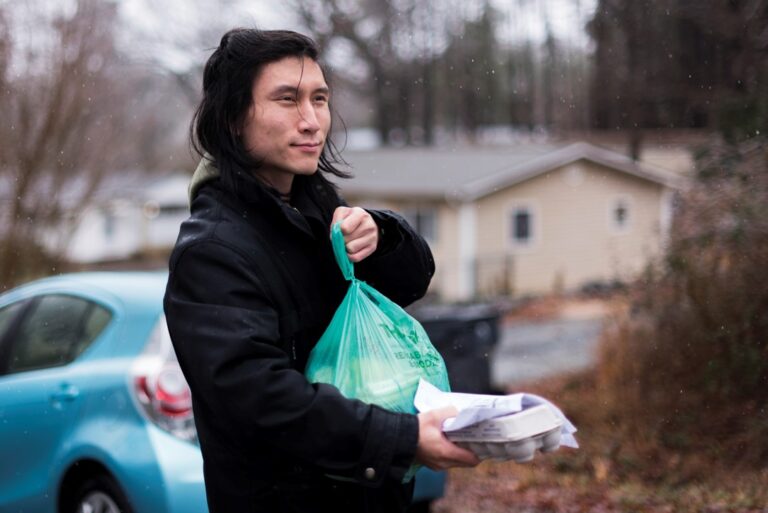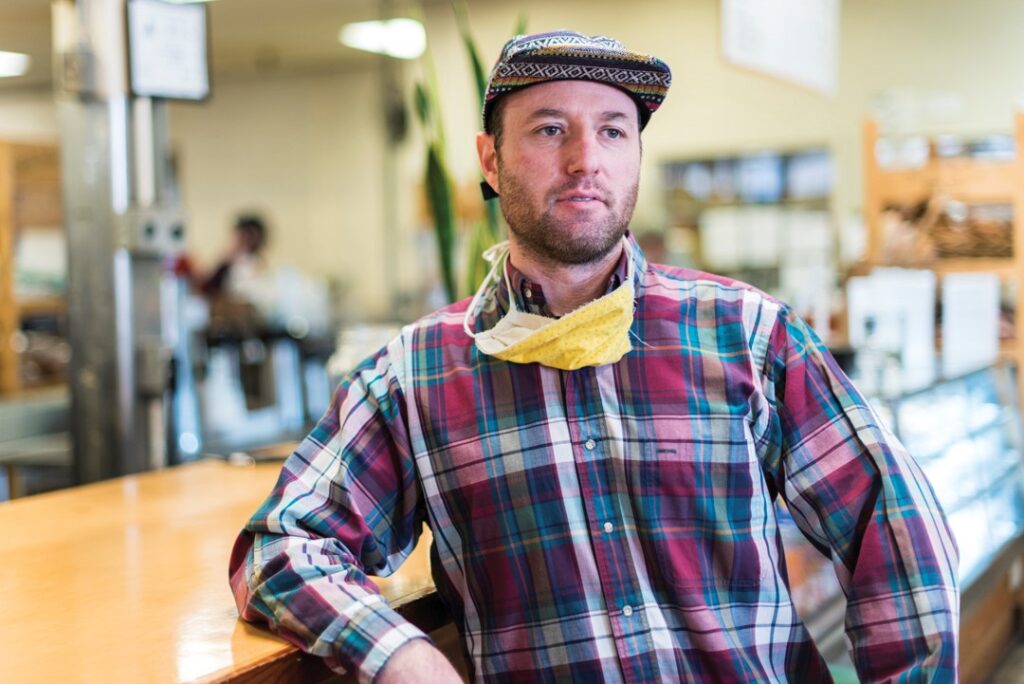 Ari Berenbaum, the owner of Ninth Street Bakery, has donated more than $30,000 towards food aid since the Covid-19 pandemic began, in contributions, bread and free meals.
Samantha and Austin Genke, of Boxcarr Handmade cheese developed an everyday cheese during the pandemic and have donated over 10,000 lbs of it. Made with yoghurt cultures, it is particularly nutritious.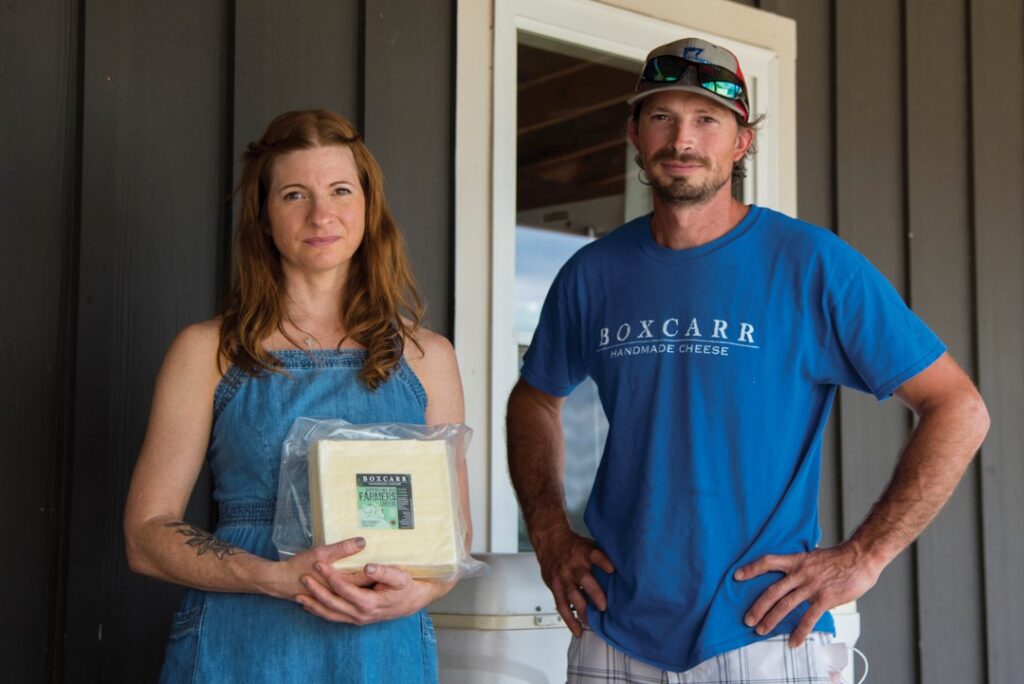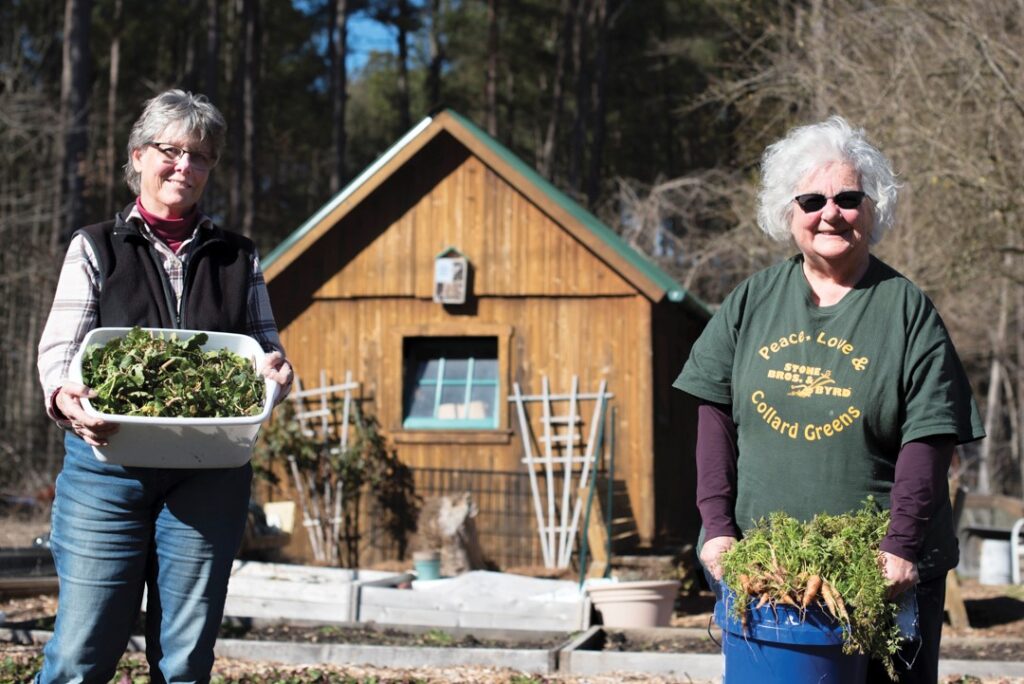 In fall of 2011, a group of volunteers cleared some woods next to the Holy Infant Catholic Church parish center in south Durham to create the Holy Infant Community Garden. In the years from 2012 thru 2020, the garden has produced/donated over 20,700 pounds of fresh produce to Durham church, school, and apartment food pantries. Around 15% of this total comes from parishioner gleaning efforts and home gardens. This gardening effort has expanded into the Holy Infant Food Justice Garden ministry with involvement in several Durham efforts to eliminate hunger, to encourage churches and public housing residences to plant gardens, and to strengthen local farming communities – End Hunger Durham, Durham Farm and Food Network and Bread for the World.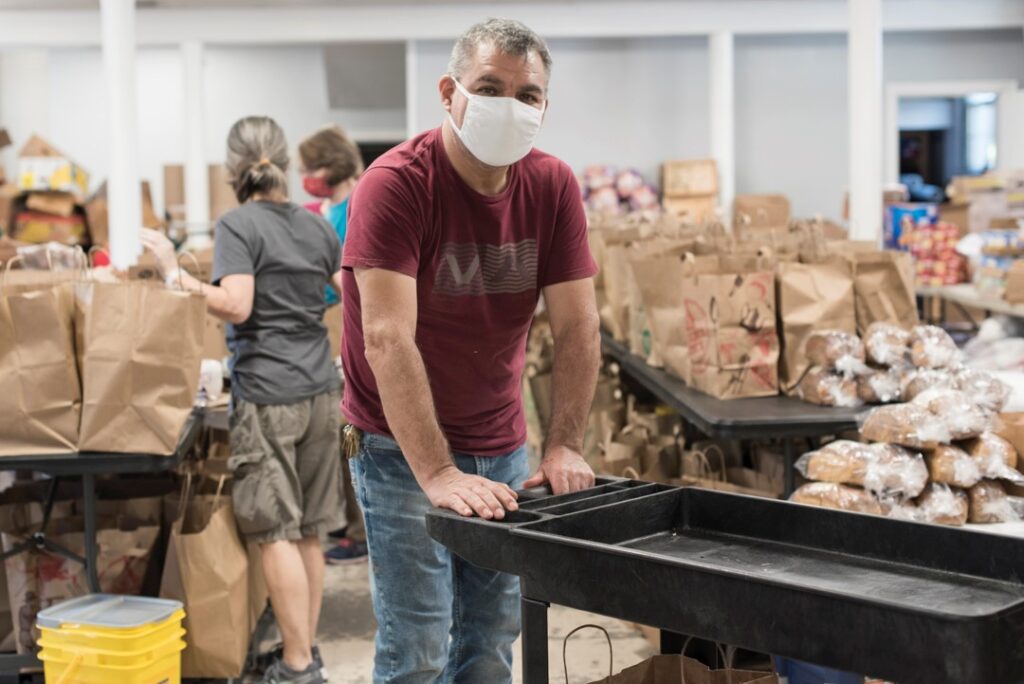 Guillermo Salamea, at the Iglesia Presbiteriana Emanuel pantry. He and 70 volunteers have been feeding nearly 600 families every week, up from 60 people before the Covid-19 pandemic.
David Juarez directs the Durham Community food pantry, a program run by the Catholic Charities of the Diocese of Raleigh. Before the Covid-19 pandemic they fed about 1,000 people, and by January 2021, this had grown to over 5,000, and three distributions a week.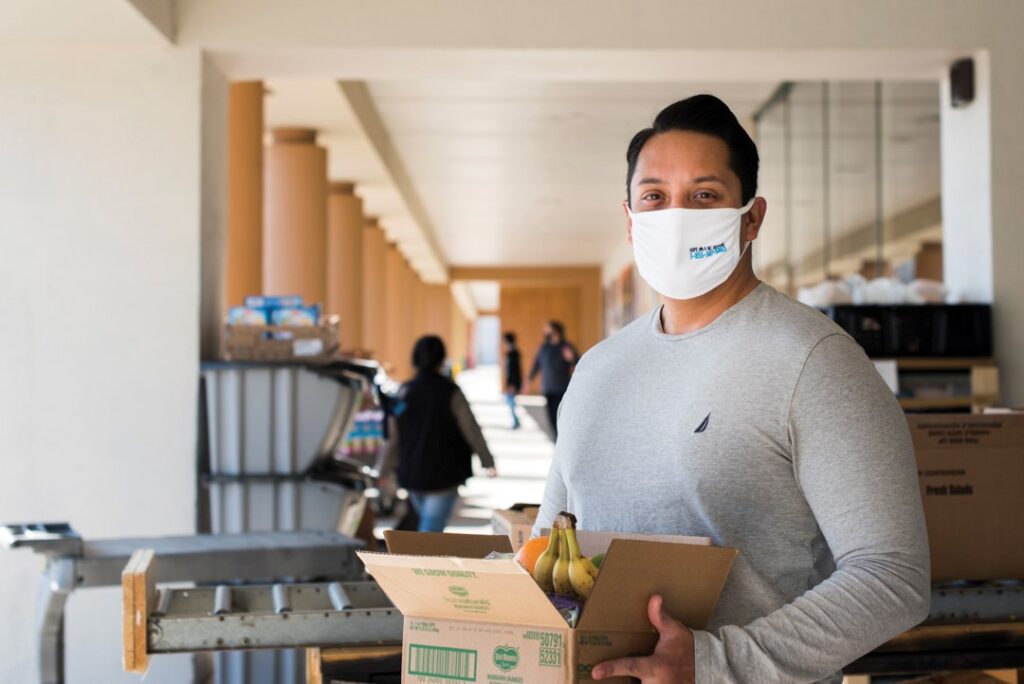 Durham Free Lunch's goal is to provide a healthy, accessible meal for anyone who is food insecure: Durham Public Schools students, our unhoused/housing-insecure population, and workers who have been laid off due to COVID-19. We serve about a thousand lunches per week, no hassle, no questions asked.  We support local farms that have lost restaurant buyers, as well as local businesses, such as Durham's Ninth Street bakery. We have also been able to help support the re-opening of local restaurant Geer St. Garden in a safe and healthy capacity, by helping to pay a living wage to all of their staff. Every weekday, we serve many of the same regulars who have come to depend on us for a solid meal and friendly conversation. 
Portrait of Andrew MaGowen, Geer Street Garden Restaurant.
Elijah King, a community activist and freshman at UNC Greensboro, inspired the creation of Durham Free Lunch.
Lily and George of Lil'Farm grow all kinds of nutritious vegetables for all kinds of people. At the beginning of the pandemic, they were among the founders of the Durham Free Lunch initiative and have been supporting it ever since.  They also send food weekly to several families in need. They live by the dictum "Take care of your neighbors."
When the COVID pandemic hit us all, Chef Marla Thurman's commitment to "no waste" became a commitment to serving the hungry community of Durham. With her team at the Pizzeria Toro and Jack Tar, she has been baking 150 loaves of bread per week to donate to "Durham Free Lunch."  She hopes that the community service which has fueled the actions of many local restaurants during this time of need will continue when they get back on their feet.  "Durham serves as an example of how strong a community can be with support from its members."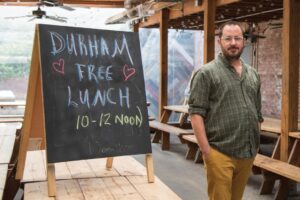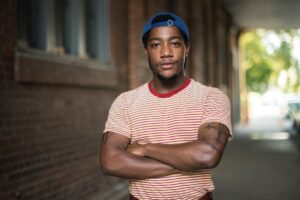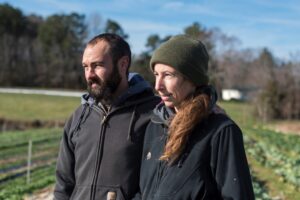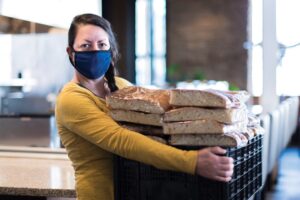 Feed My Sheep of Durham Food Pantry offers Hope, Healing and Hospitality throughout the city. They take care of 240 families twice a month, up from 50 families before the pandemic. It is organized by Jacquelyn Blackwell with the help of volunteers including Dilly Garcia and Helen Taylor, as seen in this photograph.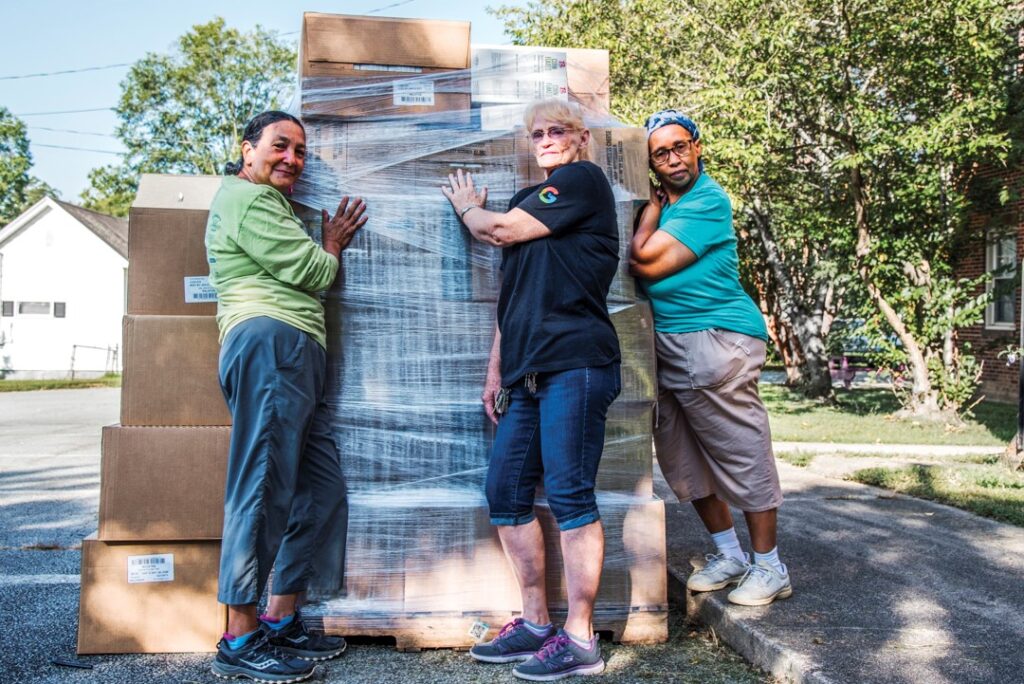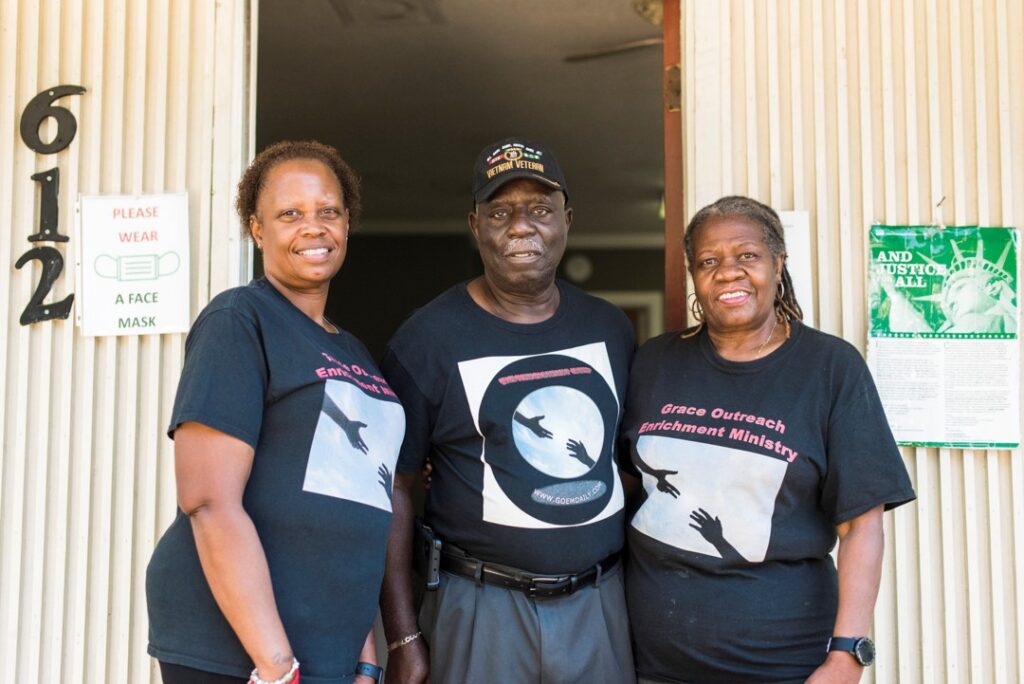 Elder Gladys Harris, with her husband Robert and colleague Kem Gilmore, through Grace Outreach, are providing healthy food and support every month to 700 families, including elders and veterans, no ID required. Since the pandemic they have run an emergency pantry at 612 Gary Street, every weekday from 11-1pm. "When you do what you are called to do, you find true happiness."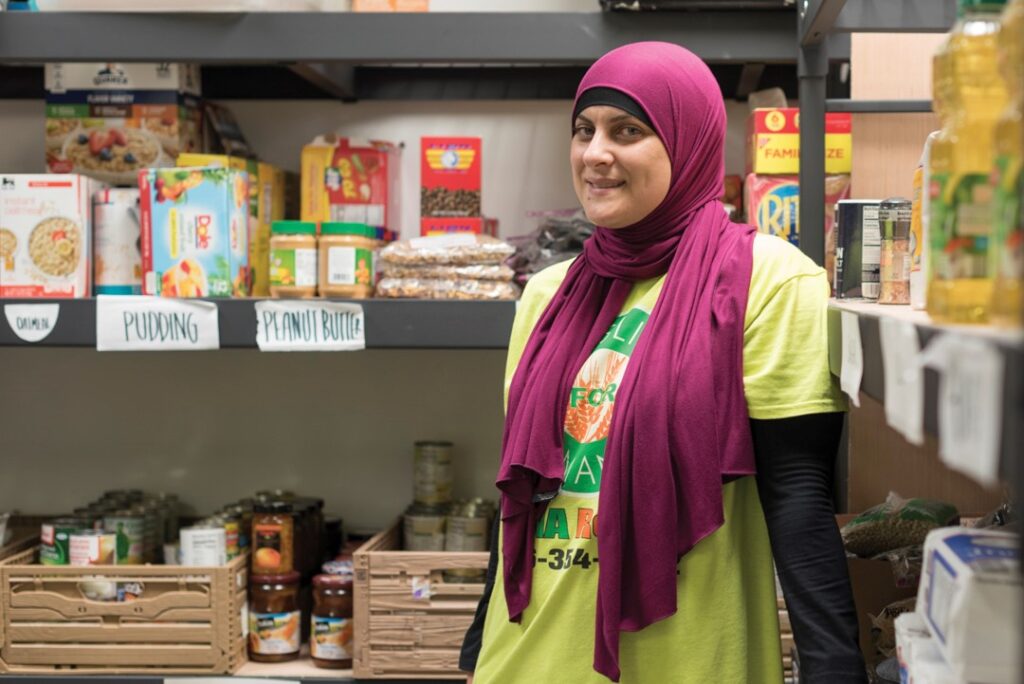 Islamic Circle of North America Relief seeks to alleviate human suffering by providing caring and compassionate service to victims of adversities and survivors of disasters. The goal is to build healthy communities, strengthen families and provide opportunities for those in despair while maintaining their dignity and advocating for their basic human needs. This mission is reflected in the multitude of services that are offered over the country. As part of the hunger prevention program to tackle the hunger epidemic our nation is facing, there are food pantries in over 13 states, feeding over 300,000 people every year across the nation.
In Durham, ICNA Relief launched a local food pantry at Jamaat Ibad Ar Rahman that serves over 250 families monthly. This facility started during the start of the pandemic, and has been a strong source of support during the increasing food insecurity that local community residents have faced with COVID-19. Additionally, local transitional homes in the city are being established and will be a safe haven for women and children in need. While these are more recent services, ICNA Relief has been serving in Durham for almost four years through the Back2School program annually as well as free health clinics that will continue into the future.
Cheralyn Berry, Durham County Cooperative Extension agent, runs the Briggs Avenue Community garden program. Through the work of volunteers, the garden supplied the Durham Tech food pantry with 1,750 lbs of food in 2020. They also gave away 8,000 plants, installed raised gardens for elders and delivered produce to gardening families who have been unable to get there.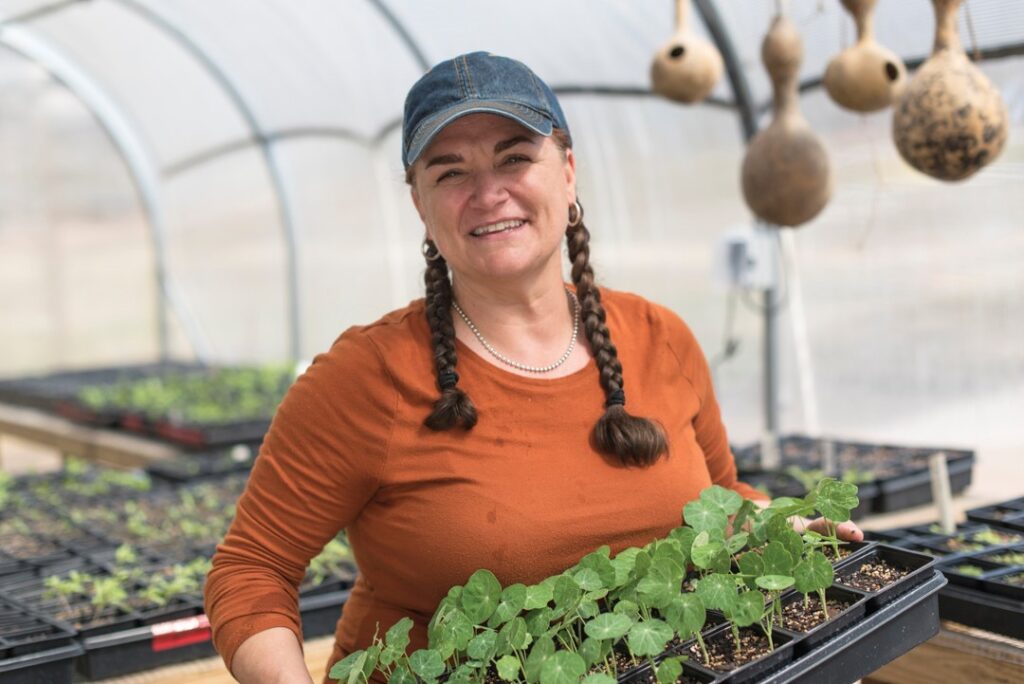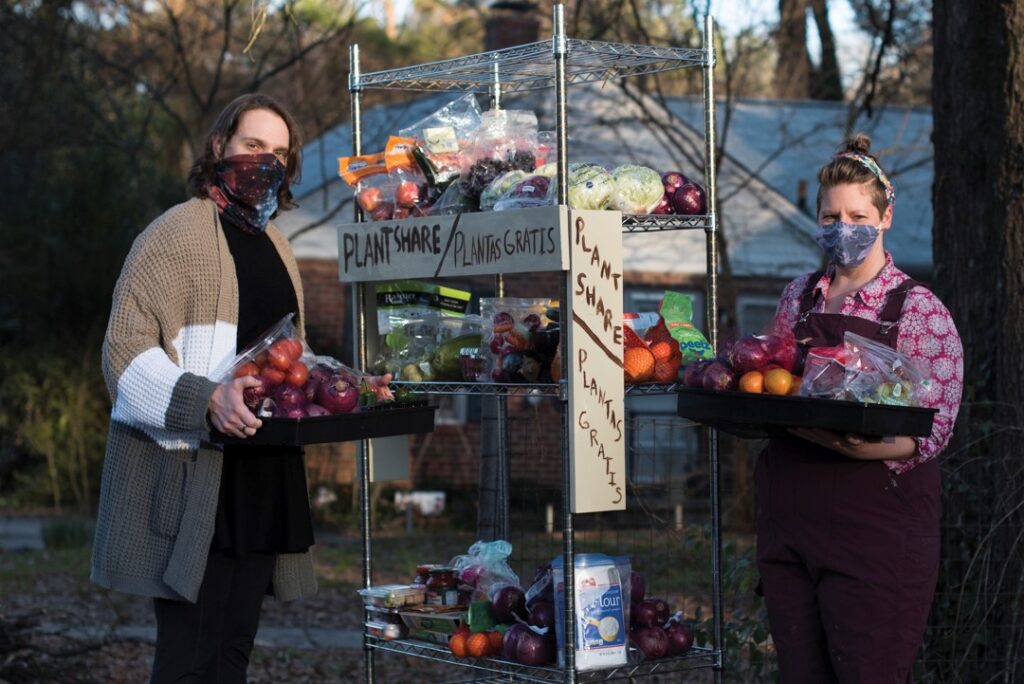 Dani (they/them) and Jess (she/her) have created a space for neighbors to share free seeds, plants and produce. All are welcome at their 623 W Club Community Plant Share Stand.
En el kiosko de Dani y Jess, vecinos comparten semillas, plantas y productos de forma gratuita y todos son bienvenidos.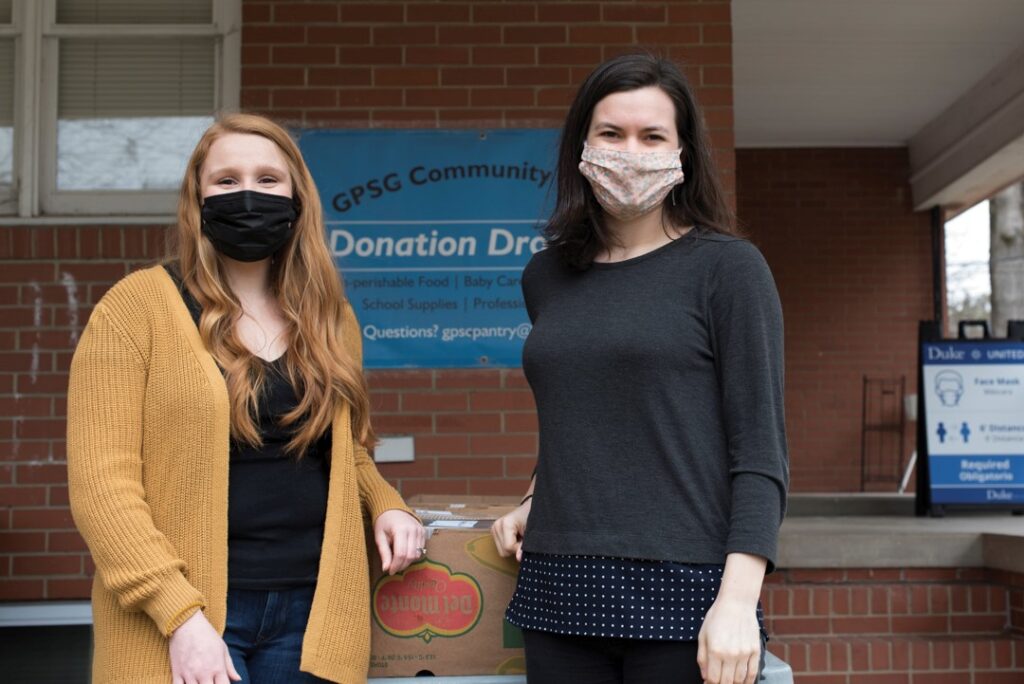 Hannah McMillan and Nicole Stantial, Ph.D. students at Duke University, together run the Campus Pantry Collaborative, which serves as a collaborative space for campus food pantries across North Carolina to share best practices and advocate for policy changes to ameliorate food insecurity-related issues. Additionally, Hannah and Nicole are founding members of the Graduate and Professional Student Government Community Pantry and serve on the executive board with other student volunteers. The Community Pantry offers weekly bags of food, personal care items, clothes, and pre-prepared meals to food insecure students to improve their success in their respective degree programs. 
Doug Hodges, through his non-profit SwingPals, fed 73 families weekly, which included over 260 Durham middle school children, throughout the Covid-19 pandemic.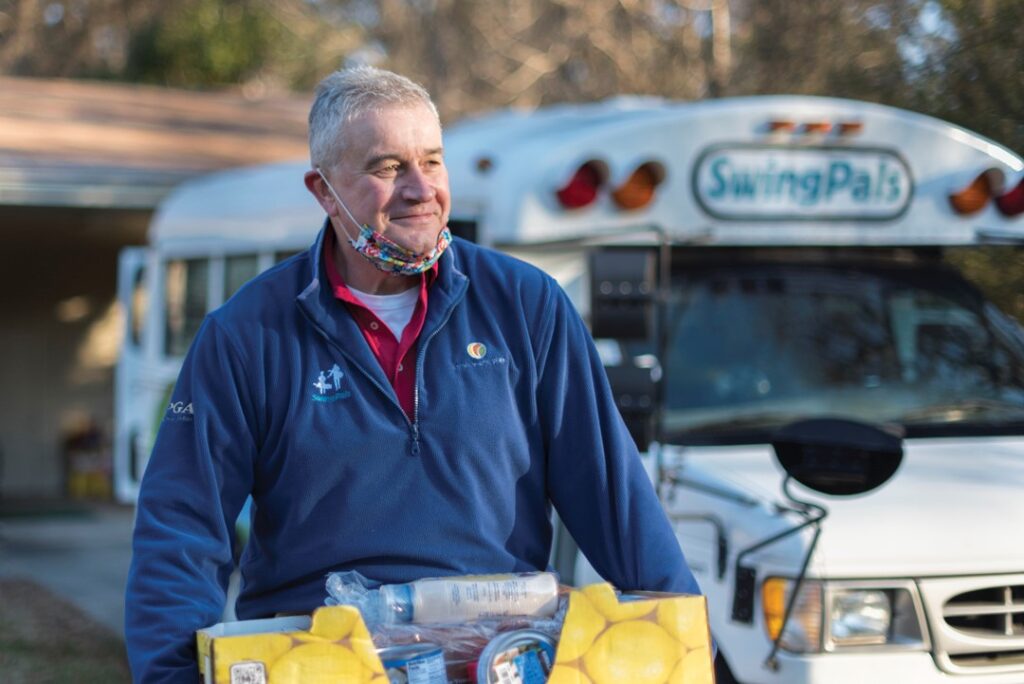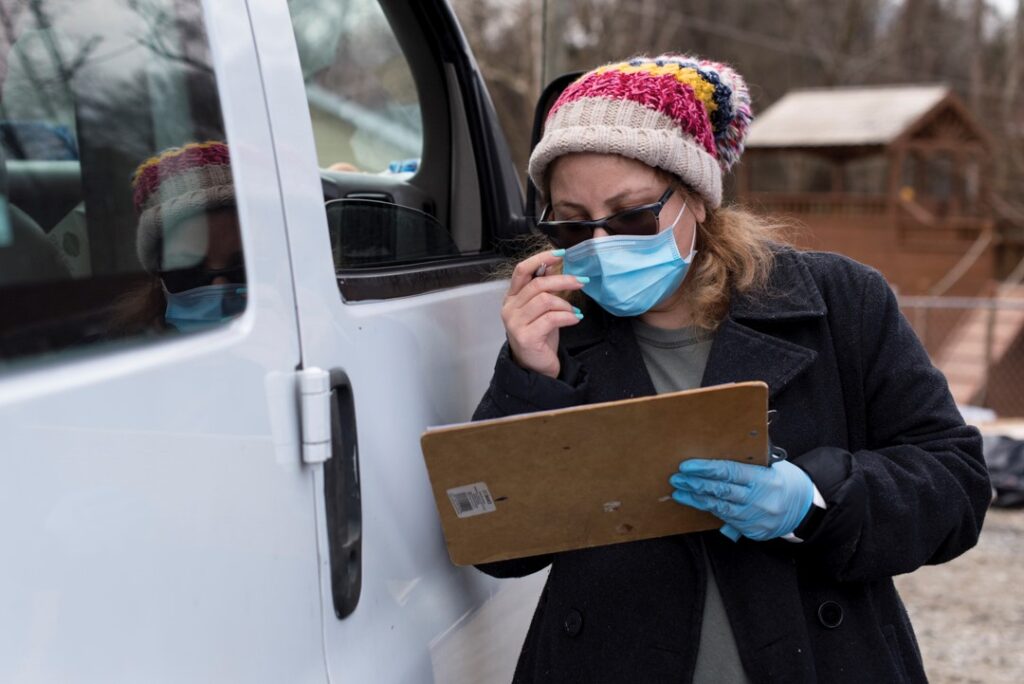 Ingrid Nuñez delivers food parcels to families she knows through her job at HeadStart for Grace Outreach and her church community, Iglesia Episcopal El Buen Pastor de Durham. She also organizes the volunteers at the church pantry. Before the pandemic, the pantry was feeding around 300 families, and now it is close to 600. 
Leslie Wolverton serves as the Field Education Manager of the Duke Campus Farm, a one-acre, working farm which provides experiential learning for Duke students and serves as a living lab for the University.  Before the pandemic it provided food for a 100-member CSA, Duke's dining halls, and their community partner Root Causes outpatient food program. However, in 2020, the farm responded to community need and all the produce,5,458lbs of it, went to food insecure outpatients. Producing food amidst a global pandemic heightened the team's awareness of the joy and comfort received through daily work in the soil. During a time of widespread isolation, the Duke Campus Farm's relationship with Root Causes blossomed. What was once a strong, but tertiary partnership evolved to an intimate operation in solidarity.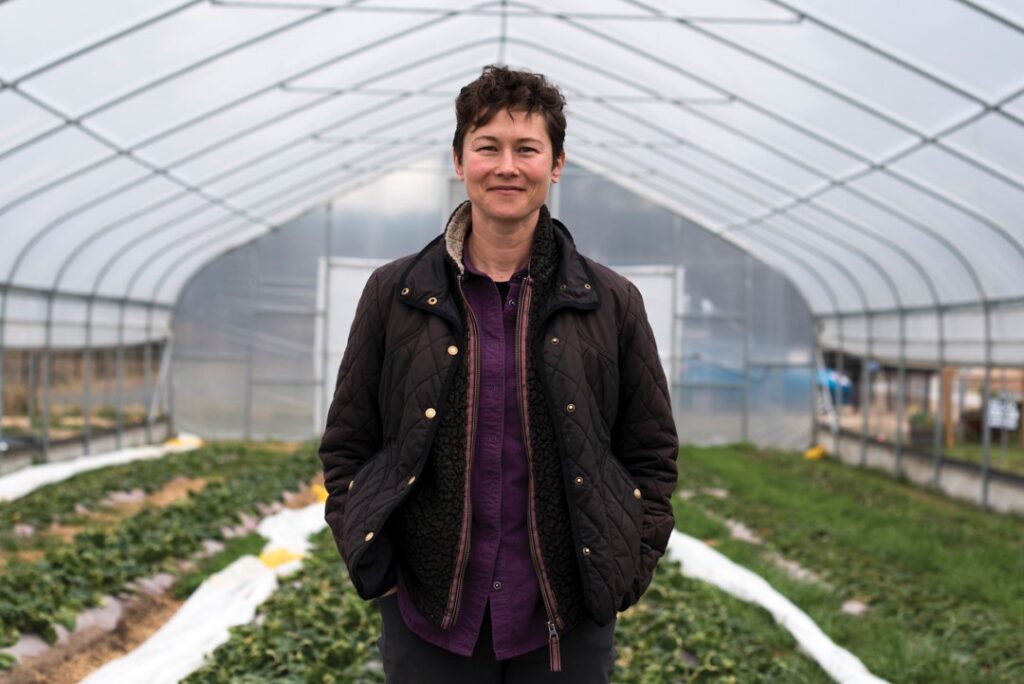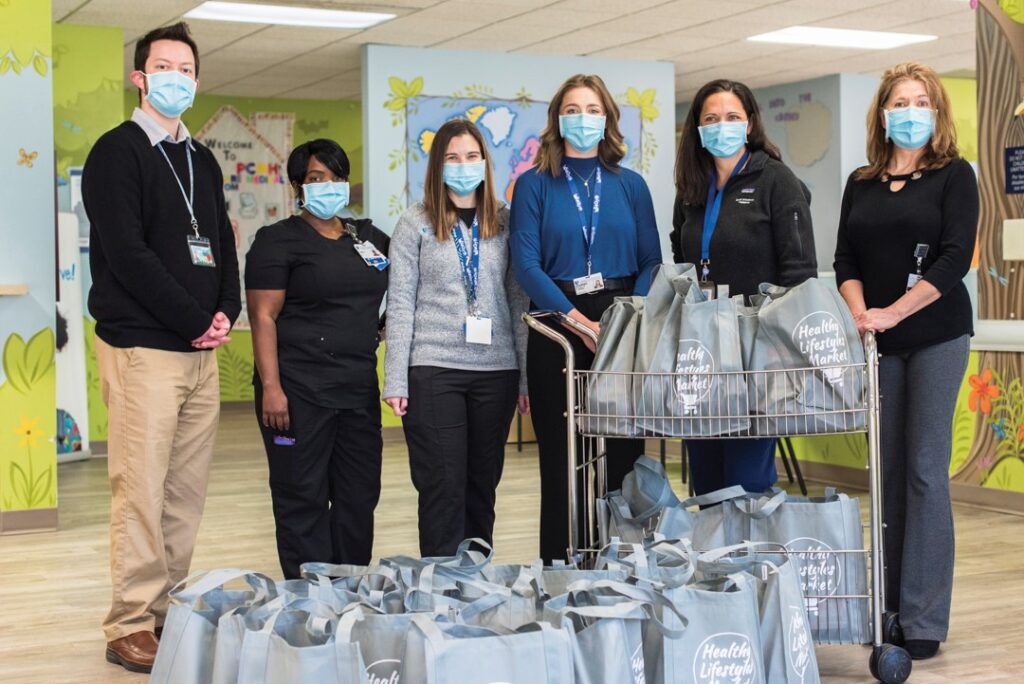 Duke Children's team at Roxboro Road have organized nutritious food assistance for families in their care. Emphasizing patient choice, they have fed over 450 families since September 2020.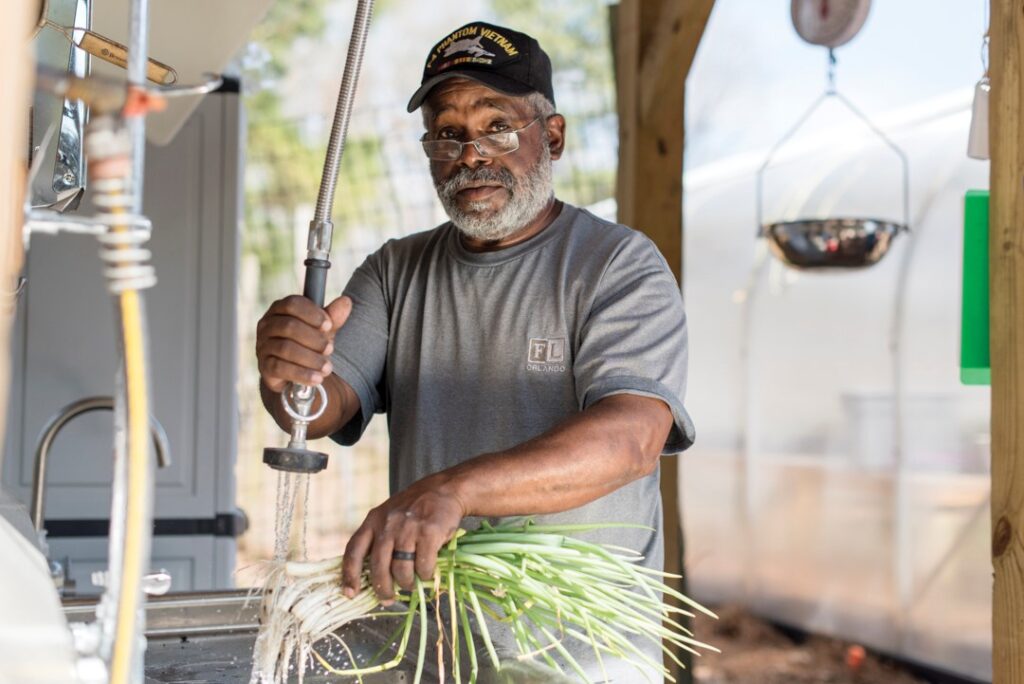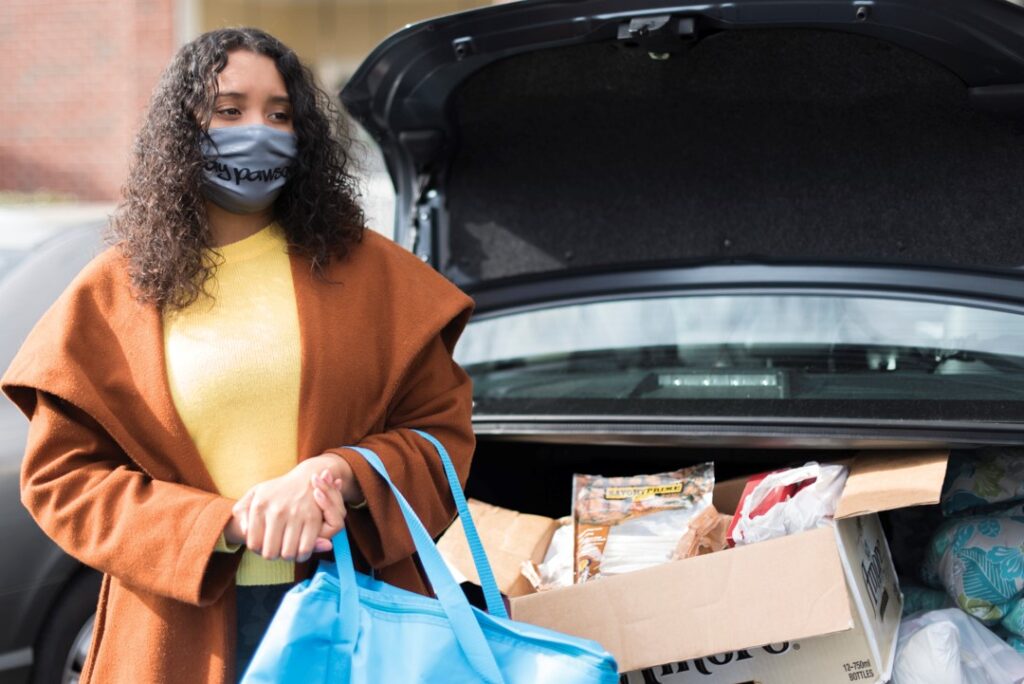 Jolanda Malone, born and raised in Bronx NY. "Growing up in the Bronx allowed me to see the many different hardships people may face in their life. It gave me a better understanding on what the community needs. Prior to Stay Pawsome being a non-profit organization. I would offer TNR in the Bronx Communities for stray cats and also help people with animals in Manhattan that needed assistance. I knew from there I could do more and wanted to do more. Moving to North Carolina , I noticed there are alot of beautiful people that need the same type of assistance so why not Lend a hand and Stay Pawsome." 
On the first Saturday each month at El Buen Pastor in East Durham, the Rev. Sarah Woodard, Deacon at St. Titus' Episcopal Church, volunteers at a food drive with many parishioners, as well as friends from St. Luke's Episcopal Church. They sort and distribute food to hundreds of people who leave with an abundance of prayers and sustenance.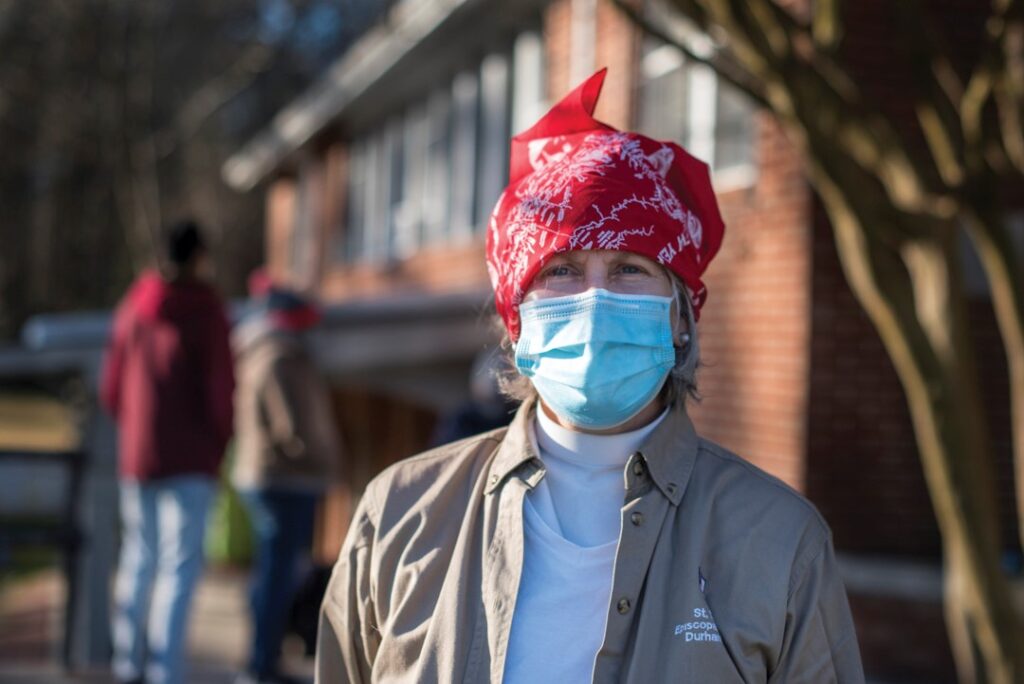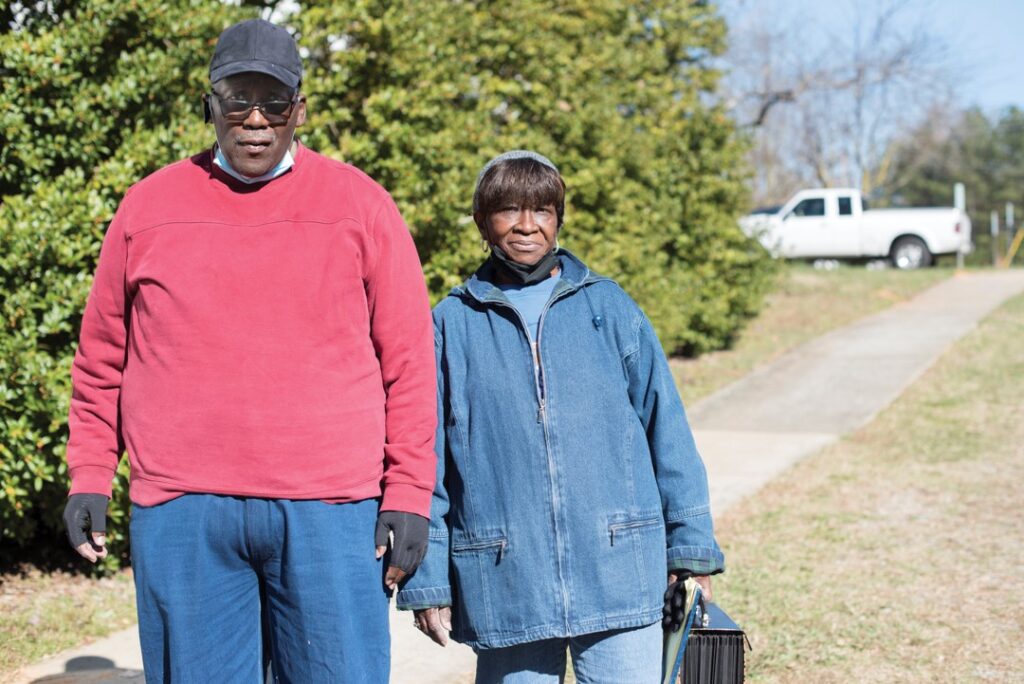 Rev. Henry A. King, Sr. and his wife, Beatrice, of the New Home and Durham Missionary Baptist Association, have fed more than 8,215 households since the Covid-19 pandemic began. This food was made possible by community donations to the church and support from the Food Bank of Central and Eastern North Carolina.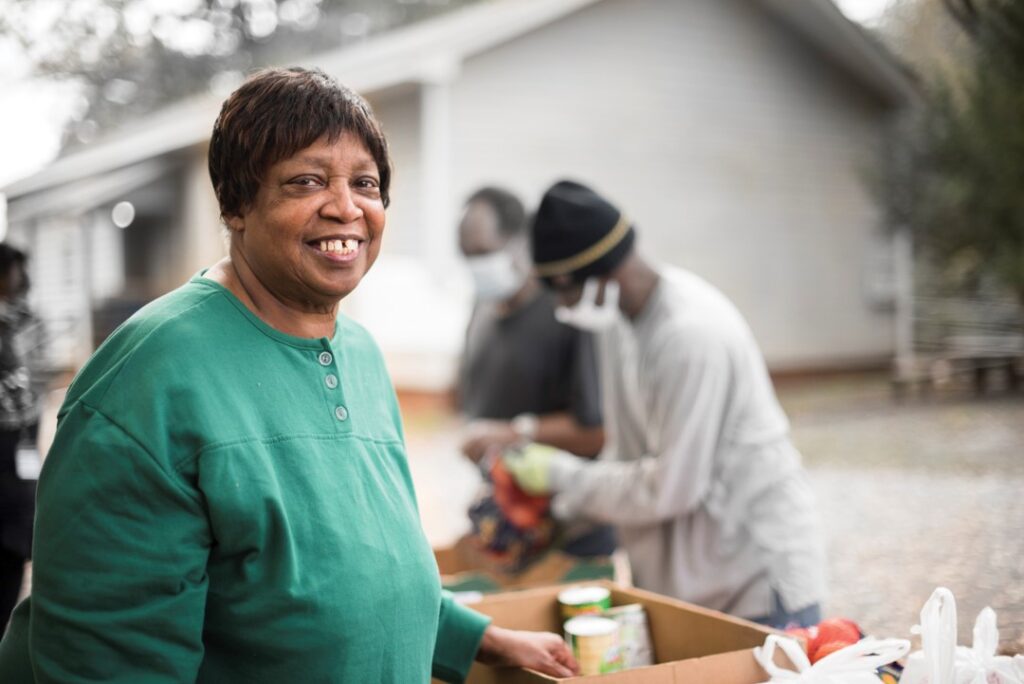 Theresia McGee, running Hannah's Community Kitchen, served more than 5574 individual households during 2020.  Gratitude was expressed by all who received food from Hannah's Community Kitchen during this pandemic.  Volunteers, along with Foodbank of Central and Eastern North Carolina, USDA and local churches made it possible for Hannah's Community Kitchen to provide these meals.  The gratitude of the recipients is palpable. Many people have lost their jobs, such as the woman who, when receiving food, said "thank you" with a smiling voice and tears rolling down her face. "This a blessing for my children and myself. I just spent all my funds to pay rent and social security. I lost my job last week and I didn't know how I was going to feed my family, until someone told me about your free drive through. Look at the food I got. Enough to feed us all week. Thank you! Thank you!
Laura Meyers, is executive director of PORCH-Durham, a decade-old organization dedicated to helping children and families of Durham County who are facing hunger. Since March of 2020, PORCH-Durham has provided 75,000 pounds of nonperishable and fresh foods to schools and community pantries and more than $200,000 in emergency grocery cards to families in crisis.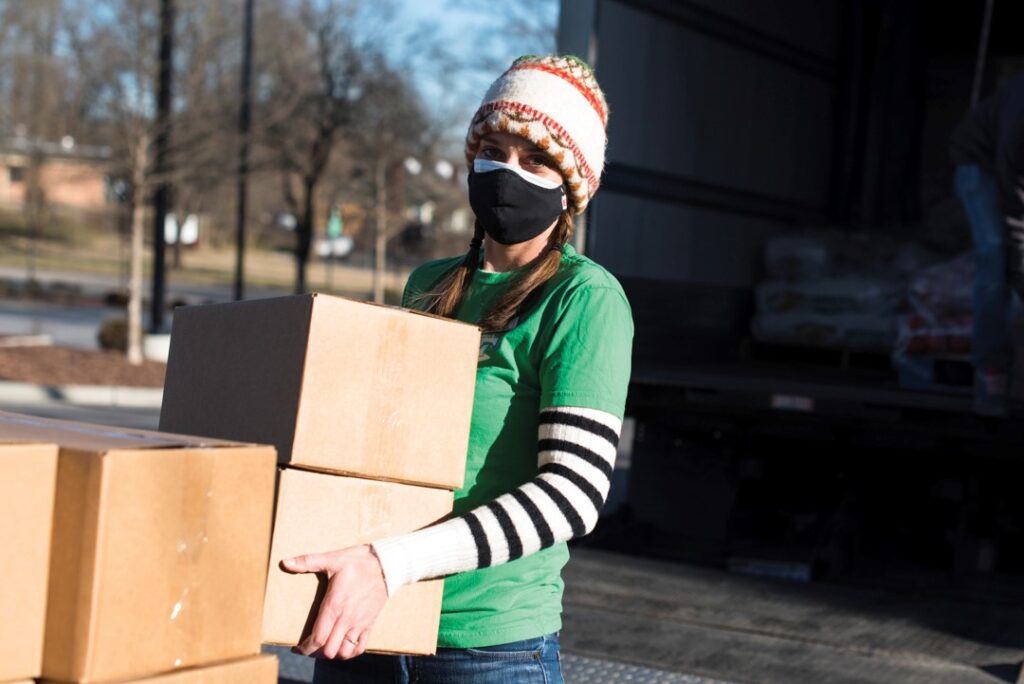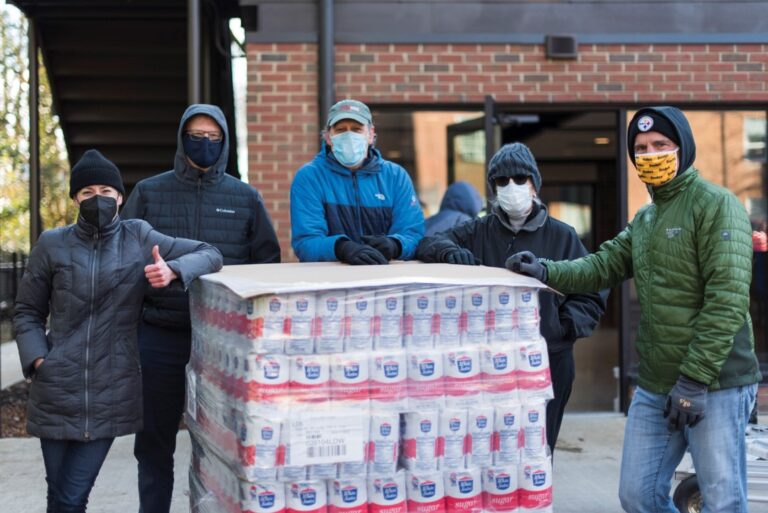 Walltown Interfaith Initiative. Volunteers from Beth El Synagogue, St. John's Missionary Baptist, Trinity Avenue Presbyterian, Blacknall Memorial Presbyterian, Watts Street Baptist, Grace Evangelical Lutheran and Asbury United Methodist provide groceries and cleaning supplies to 150 families in the Walltown section of Durham once a month. A large portion of the food has been donated by the Church of Latter Day Saints in Salt Lake City.