There are many free or low-cost services programs available in Durham that can help ease the already stretched budgets of families in need. Signing up for these programs starts with knowing that help is available, where to go, and who to talk to.
With this in mind End Hunger Durham has launched The Information Station.
 The Information Station is a mobile resource table staffed by trained volunteers who offer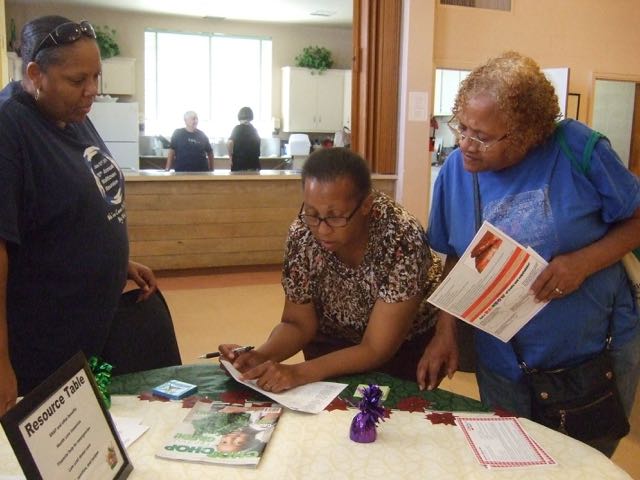 food pantry clients assistance enrolling in benefit programs and handouts to connect with food and health, financial, and employment resources.
Photo: An Information Station volunteer shows a food pantry client the list of food pantries in Durham.
Volunteers can
refer people to counselors, often present at the table, who will assist in completing applications for SNAP, WIC, Medicaid, Meals on Wheels, free or reduced childcare and more.
look up resources based on conversation with the individual.
refer them to specialized services, such as dental care or diabetes support groups.
share healthy recipes and nutrition tips from the Durham Dept. of Public Health
provide information about free or low cost sources of food, health care, senior services, recreation, fitness, and more.
The Information Station served 398 food pantry clients between May and August 2017.
For more information, to volunteer, and/or to schedule The Information Station at your food pantry or event, contact Betsy Crites at (919) 381.5969 or email bcrites@sonic.net.