NOTE:  For details about future training for food pantry operators and agency directors and volunteers contact Jacquelyn Blackwell at (984) 364.9662 or email beamblackwellj@yahoo.com.
 The Information Station is a mobile resource table staffed by trained volunteers. They offer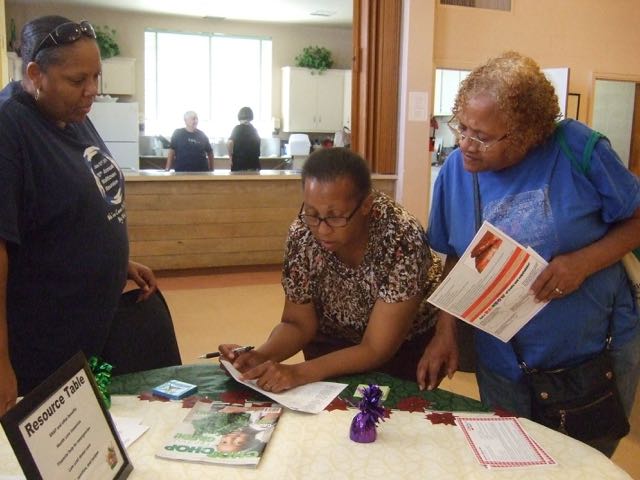 contact information on community resources and assistance enrolling in benefit programs such as SNAP (food stamps) to people attending food pantries and other community health fairs and events.
Information Station Coordinator, Jacquelyn Blackwell, shows a food pantry client the list of food food resources in Durham.
Trained volunteers provide:
individualized resource referral.
connection to service navigators for entitlement benefits eligibility and enrollment–SNAP, WIC, Medicaid, and Medicare.
information about free or low cost sources of food, medical and dental care, senior services, recreation, fitness, and more.
healthy recipes and nutrition tips from the Durham Dept. of Public Health.
The Information Station served over 500 food pantry clients and other low income families in 2017 because access to more resources, improves access to food.
For more information, to volunteer, and/or to schedule The Information Station at your food pantry or event, contact Jacquelyn Blackwell at (984) 364.9662 or email beamblackwellj@yanoo.com