The COALITION OF DURHAM FOOD PANTRIES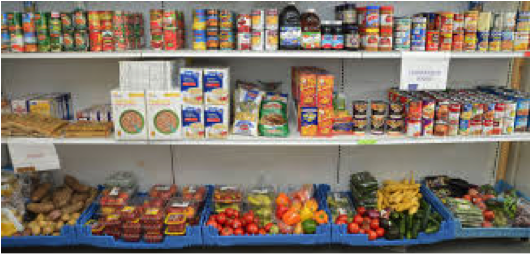 In the Spring of 2017, EHD supported the Coalition of Durham Food Pantries with volunteers for their food drive.  We stay in regular contact and direct food, volunteers, and cash their way whenever possible.
EHD has collaborated with the Coalition to implement our Food and More Pilot Project.  Of the six pantries we worked with, five are members of the Coalition.
Visit our page on Food and More to learn about the project.
Background on the Coalition:
In the Fall of 2016, End Hunger Durham helped organize small food pantries into the Coalition of Durham Food Pantries. The food pantry operators' immediate concern was the crucial need for more food donations with the onset of winter's higher energy costs and the approaching holidays plus the impact of Hurricane Matthew on food relief distribution and grocery store prices.
In response to these concerns, the Coalition quickly mobilized to make a double hitter appeal to Durham citizens to help provide a bountiful Thanksgiving Holiday for everyone. The 16 participating food pantries serve 1,545 families.
Many thanks to Durham Army National Guard for the use of their facility to collect, organize and distribute non-perishable food and to Bull City Cool Food Hub for freezer space to store holiday poultry.  
And we all extend heartfelt thanks to the donors who made this effort a success.
Pantry Leaders Meet:
End Hunger Durham has devoted much of it's effort to listening and supporting the work of food pantries in Durham, the major distribution system for emergency food to hungry families. In 2016 EHD, in collaboration with the Durham Branch of the Food Bank:
held two listening sessions with food pantry operators in the Spring,
hosted a meeting in Northeast Central Durham with information about summer meals,
conducted a phone survey of pantry operators to bring information up-to-date for agency workers and pantry clients,
surveyed the clients in three pantries to learn as much as possible about their situations and how pantries might better serve them,
reported survey results to food pantry leaders and facilitated a conversation on meeting their biggest challenges: more healthy food and more volunteers.
We are grateful to the Food Bank of Central and Eastern North Carolina, Durham Branch, for its support and encouragement in this work.  We also appreciate the support of Durham Congregations in Action and the Durham County Dept. of Public Health.